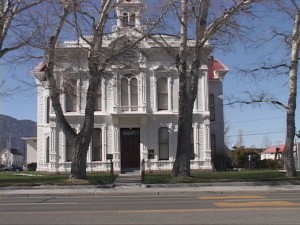 Last year's Mono Grand Jury received two citizen complaints that laid out accusations that the Town of Mammoth Lakes, the Town Council and staff "pursued a secret plan with Waste Connections Inc" to use money collected in trash bills to buy real property to expand the Solid Waste Transfer Station in the Industrial Park, including plans to build and operate a Materials Recovery Facility." The Grand Jury found that the Town failed to discuss details with the public and did discuss details not allowed in closed session under the Brown Act.
The Jury notes that real property negotiations at the Industrial Park could have been discussed in closed session but that evidence indicated that the Town Council went much further into talks about solid waste issues, including a Materials Recovery Facility, and Mono County's concerns.
The Jury found that last year, residents of the Trails had objected to the Materials Recovery Facility locating in the Industrial Park. The Jury noted that in the history of the issue, all discussions but one were in closed session. Although after the Trails' objections, more went public and the Council announced that any further MRF plans would proceed publicly.
The Jury found that discussions that went beyond the price and terms for an expansion parcel "violated the Brown Act because they were, at best, only tangentially-related to the proposed transactions. They were and are the public's business," wrote the Jury. "They could have and should have been discussed in open Council meetings where the public could participate."
The Jury recommends closed sessions of the Town Council should be recorded. Recordings should be kept for a period of at least three years. The Jury recommends more Brown Act training for the Council. The Jury recommends the Council actively foster the principle of open government and "always err on the side of public disclosure, participation and discussion."
The Jury recommends that citizens concerned about possible Brown Act violations by the Town Council "may immediately contact the Mono County District Attorney for assistance." The Jury says that the DA's office has "assured the Grand Jury that it is prepared to investigate and resolve such matters expeditiously."