All summer long, residents and business in downtown Bishop have been periodically tagged with gang related graffiti. Now Bishop police report that two of the vandals have been arrested.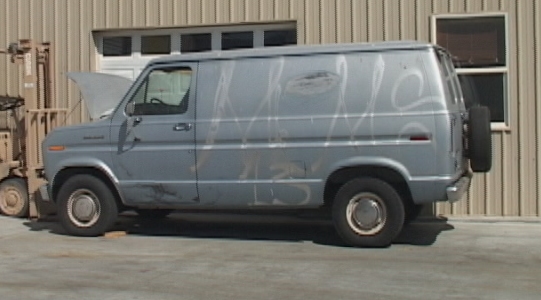 Wednesday morning, business owners and employees s in downtown Bishop showed up to work to find walls and even a parked van, covered with gang related spray paint. Once again private property was covered with the scrawling scribbles of the MMS13, the same tag that has been spread all over town this summer. The MMS13, is short for Malditos Mexicanos Surenos.
Tuesday night, just before 11:00 a Bishop police officer parked with their lights off, spotted a group of juveniles. With reports of broken windows in the area over the weekend, police report that the officer tried to make contact, but the group of juveniles ran.
After a short foot pursuit, officers arrested two juvenile males. After various statements and paint cans found, police charged two of the juveniles with felony vandalism.
Investigations continue into this rash of vandalism continue. Police report that while two alleged vandals were arrested, there were five total seen in the group that ran off.
Whether related or not is unknown, but Bishop Police report several windows were smashed in Monday night. Someone Monday Night threw rocks through windows at McDonalds, the Post Office, and Mission Linen in Bishop.
In what Officers believe to be a separate incident, someone has been smashing out car windows at local trailheads recently. Inyo Sheriff Officers report that they first received the reports on Sunday August 24. At least three cars had their windows smashed in at the South Lake trailhead parking that weekend. Then over Labor Day weekend, Officers started to take reports on windows broken out of cars at the Big Pine Creek trailhead. Reports are still coming in, Officers report, but at least three cars have had windows smashed out at Big Pine Creek as well.
So far, Officers report that nothing has been stolen from the vehicles.
Investigations into this string of vandalisms continue.