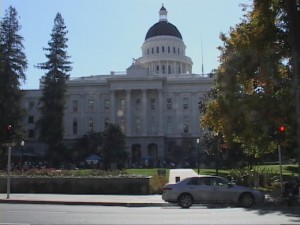 At the end of August the California Legislature passed Senate Bill 1148. Governor Brown has now signed that bill which trout hatchery supporters say will hurt the planted trout programs and boost wild trout issues.
According to former Mono County State Senator Dave Cogdill, the Governor signed the bill and line item vetoed the $1 million set aside for hatchery infrastructure. Cogdill said CalTrout had pointed to that million to show the bill would support hatcheries and trout plants. CalTrout spokesmen have maintained that SB 1148 will not harm hatcheries but will boost wild trout programs.
Mono Supervisor-Elect Tim Alpers had sent a letter to Governor Brown, urging him to oppose SB 1148. In that letter, Alpers says the bill "switches the priority from the State hatchery system to the Wild and Heritage Trout program." Alpers said the wild trout program is only a small fraction of fishing license sales. He also said that there is no limit for spending on wild trout but a million dollar per year expenditure on hatcheries – an amount now eliminated from the bill.
Alpers wrote to the Governor that "The cost of implementing SB 1148 will run into multi-millions of dollars to fill 7 biologist positions, inventory all trout streams and lakes in the state, and sterilize some or all hatchery raised trout." Alpers added that Fish and Game will charge the hatchery and fisheries fund made up of license fees an annual 29% administrative fee.
CalTrout Conservation Director Curtis Knight had earlier maintained that SB 1148 would not cause hatcheries to lose money, would allow Fish and Game to buy trout from private hatcheries, would improve stocking in put-and-take fisheries like Inyo-Mono and that native trout will be protected with establishment of a special program.
In comments to the public, Cogdill said, "I believe production at the hatcheries will remain mediocre at best and one will be more likely to run into a fish biologist than a game warden in the field." Cogdill said he hopes the public will hold CalTrout and Fish and Game accountable to produce for hatcheries as they have said they would.