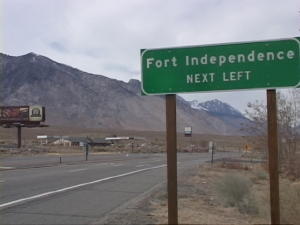 According to the State of California website, Governor Jerry Brown has signed an agreement that authorizes a Class III gambling casino that allows for up to 800 slot machines at Fort Independence Indian Reservation.
The 93-page agreement gives permission for 800 gaming devices, percentage card games and games under the State Lottery. The agreement specifically prohibits roulette or any game involving dice.
The agreement says Fort Independence will have to make quarterly payments based on net win into a Special Distribution Fund which will be used to pay state regulatory costs and grants to deal with gambling addiction. Before a casino can be built, the Fort Independence Tribe will have to perform what is called a Tribal Environmental Impact Report to address impacts on the local community and the County. Mitigations will have to be spelled out.
The building of the casino itself, according to the agreement, must meet state and county codes and regulations. Many other details are laid out in the 93-page document including licensing, inspections and audits. It says the Tribe will share up to 10% of the revenue with other tribes that are not gaming or that are otherwise not substantially benefiting from gaming.
Fort Independence Tribal Chairman Israel Naylor was not available for comment. Other spokesmen did confirm that there are plans to build a casino to conduct Class III gaming in the vicinity of the current Travel Plaza and Campground.