Hospitals have a tough time these days – collecting money from insurance companies and government agencies, following all of the rules and paying all of the bills. One expensive requirement – retrofitting buildings for seismic safety – has now been delayed by Governor Schwarzeneggar.
In Bishop Northern Inyo Hospital Administrator John Halfen said that the hospital would not get a reprieve under the Governor's rules since our area is earthquake prone, but Bishop's new building project will cover seismic concerns anyway.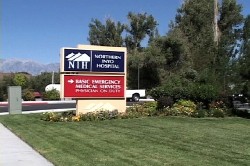 In Mammoth Lakes, Administrator Gary Myers said that the new hospital facilities will cover earthquake requirements. An old building that did not meet standards was closed a while back.
Myers said Mammoth Hospital had applied for an extension to 2013 as well. So the facility will be in good shape in terms of state requirements.
In Lone Pine, small Southern Inyo Hospital had also received an extension to 2013. Southern Inyo Hospital is just trying to achieve financial stability with any expensive building plans for seismic stability not really on the table.
Lee Barron, Administrator, said that she believes there will be extensions until the state comes up with solutions to finding enough money to retrofit or rebuild California's hospitals.
If the State had continued to enforce current requirements, dozens of hospitals would have to shut down. Administrator Halfen also pointed out that there are only two companies in California certified to do earthquake re-builds. That factor also makes close deadlines unreasonable.
After the Northridge earthquake in 1994, the State ramped up requirements for seismic safety in hospital buildings, but the immense cost for such work has made plans unreal. According to news reports right now only 97 of California's 436 acute-care hospitals meet the law's standards for seismic safety. Records show that 244 hospitals have not yet begun major construction. Nearly half are in the Los Angeles area.