ONLINE FUNDRAISER – Inyo Beyond the Mask
Goodent will celebrate our love for the weird, wild, and wonderful community of Inyo and beyond by inviting everyone to share poetry, songs, dance, and more on Sunday, February 14th. Now that Goodent has reclaimed The Forum Theater in Lone Pine, we'll be hosting our first event remotely!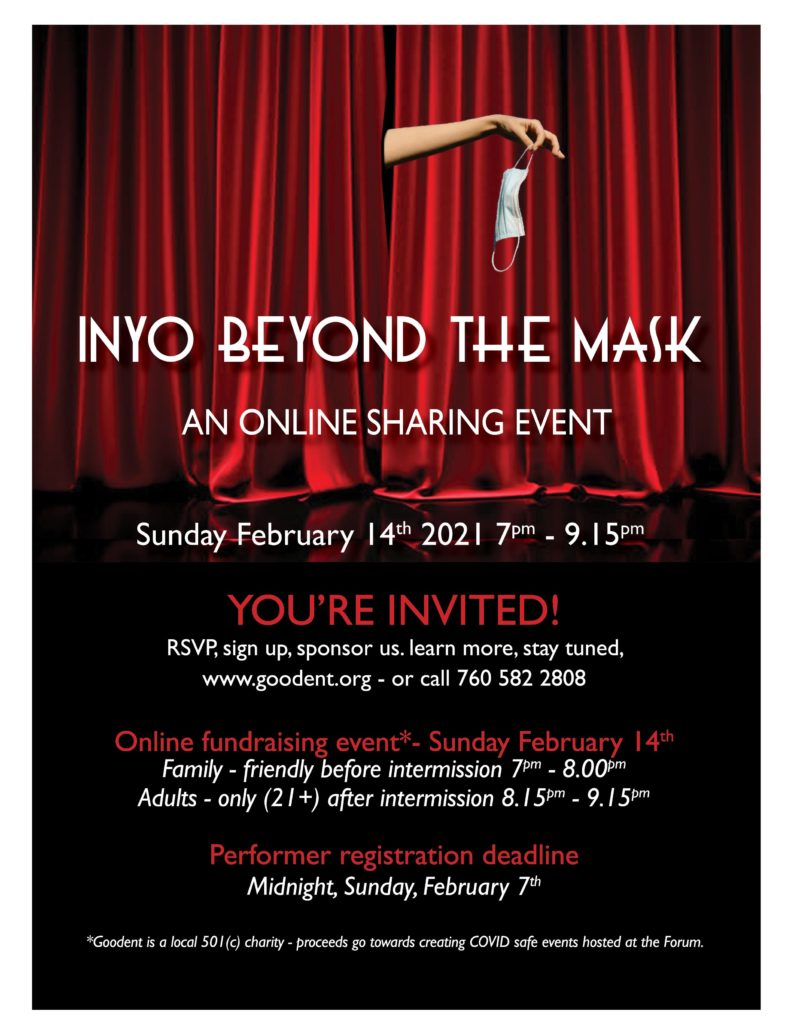 SHOWTIMES:
RSVP FOR THE LIVE PERFORMANCE AT:  https://www.goodent.org/inyobeyond.html
7:00pm-8:00pm—family-friendly programming
8:00pm-8:15pm—intermission
8:15pm-9:15pm—mature programming (21+)
Suggested donation: $10/person
Viewing Audience:
Enjoy the show with your favorite beverage from the comfort of your own home!
Performers:
The deadline to sign up is midnight on Sunday, February 7. We invite you to perform for up to 5 minutes. Spoken-word, poems, songs, dance, juggle, social chat, jokes, including adult humor… your choice!  Pre-record your piece from home or perform live from your location on Zoom!
Sponsors:
Advertise your business or give a personal shout out! Thank you for supporting us so we can offer more events like this in the future!
For more info about the event, including signing up as a viewer, performer, or sponsor, please visit us at goodent.org/inyobeyond.
Goodent is a 501(c)(3) non-profit organization. Our ​​mission is to educate and uplift our community and celebrate human potential through reclaiming spaces and materials to promote art and wonder. Join us in our journey to put "good dents" in the world!