By Deb Murphy
The skeleton of a new Big Pine Volunteer Fire Department building is rising from the site of the old county library on Main Street and will house the department's fire engines by March, if not earlier.
The old garage's 8-foot doors could no longer accommodate a new 10-foot engine. With the warm weather helping the Rudolph Construction crews complete the metal building ahead of schedule, Chief Damon Carrington anticipates the engines will move to the new building sometime next month. The frugal fire district was able to foot the $352,000 bill from its savings.
The finished, 2,000-square foot building will be faced with what Carrington described as "fake river rock" on the front and south side.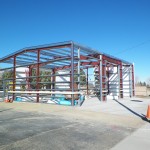 Work started in December on land owned by Inyo County and sold to the department in July for $1. The county Board of Supervisors also waived building permit fees, estimated at $5,200. According to Carrington, the board said they wanted to see the department use the funds on capital improvements and equipment purchases. And, that's what the department plans to do.
With two engines over 30 years old, the department plans to replace a structure fire engine with a used Bureau of Land Management Type 3, dual purpose structure and wildland fire truck with more water and pump capacity. Next on the agenda is a new Type 2 engine, also dual purpose that Carrington hopes to buy with the help of a FEMA Assistance to Firefighters grant. The used BLM engine will cost around $40,000; the Type 2 engine is valued at $355,000, but with the grant funding, the department will only have to come up with $50,000.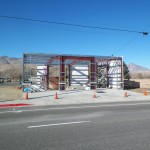 Big Pine has seen its share of devastating wildland fires over the last few years. With the addition of dual purpose engines, the firefighters will have the tools to get a handle on wildland fires as first responders.
The department's future plans include remodeling the original fire station to include meeting rooms, offices, an updated kitchen, dispatch rooms and bathrooms. The station and parking lot sits on a City of Los Angeles lease. Big Pine is now nearing the end of a 10-year effort to purchase the land.