Laws Railroad Museum will be celebrating Good Ole Days on September 13, 2014.  The event will start at 11:00 am until 4:00 pm.  The admission is free & great family fun.
Events planned for this include live entertainment from the Peavine Pickers.  Bring a lawn chair and enjoy their great music.  The famous pie auction will begin at 2:00 pm.
Local authors Kathleen Haun, Judith Butler and Irene Fritz will be available to purchase books and talk to the authors.
All of the buildings at Laws will be opened and staffed such as the pharmacy, print shop, doctor's office, train depot, church/library and the school house.   The stamp mill will be doing demonstrations.
Other attractions include demonstrations of Blacksmithing, Arrowhead making, Chuck wagon, pottery, spinning, quilting, leather work,  native American crafts,  using a cross cut saw, pine needle basket making, hands on ceramics,  civil war camp and much more.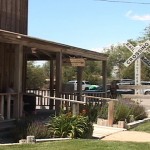 Kids are not forgotten.  A special visit with Smokey the Bear and lots of old fashion games and the art of  playing horse shoes..  Free train rides on Old Smokey and mule drawn wagon rides.
Plenty of food and beverages will be available for sale.  Picnickers are welcome.  Period costumes are encouraged.