The following is a press release from the Eastern Sierra Land Trust:
A critical piece of wildlife habitat for the Round Valley mule deer herd has been preserved by the forward-thinking of some local property owners.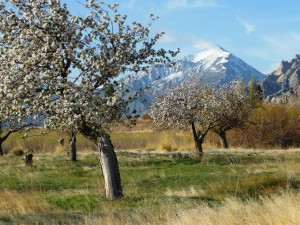 "I have always been interested in land conservation, and it finally came to where we wanted to do something to protect our land" said owner Bob Naylon. Bob and his wife Lee have been considering their options in keeping their 104 acres of beautiful Swall Meadows property open forever for wildlife migration.
 Today, their land has been preserved with a conservation easement, a voluntary binding land protection agreement between the landowner and Eastern Sierra Land Trust (ESLT).  Bob and Lee Naylon retain ownership and management responsibilities for their land while designating how the land will be used now and in the future.
"The preservation of the Naylon property demonstrates a high level of environmental stewardship by the Naylons and their conservation partners by promoting responsible use and protection of a highly sensitive migration corridor said Alisa Ellsworth, California Department of Fish and Game Associate Wildlife Biologist said.  "Not only will the Round Valley mule deer herd benefit, but many other wildlife species as well." The California Deer Association and the California Wildlife Conservation Board partnered with ESLT in funding the acquisition of this important conservation easement.
Seventy-four acres of critical wildlife habitat in the Swall Meadows area is already preserved with conservation easements between property owners and ESLT. The addition of Bob and Lee Naylon's property helps assure a safe and healthy habitat for the 2000 mule deer that move through Swall Meadows twice a year between their winter and summer ranges.
Eastern Sierra Land Trust is a non-profit organization that works with willing landowners to preserve vital lands in the Eastern Sierra region for their scenic, agricultural, natural, recreational, historical, and watershed values. To learn more about ESLT visit www.eslt.org or call (760) 873-4554.