Over the past year, the Mammoth Town Council has been virtually silent about the $42 million lawsuit debt owed to Mammoth Lakes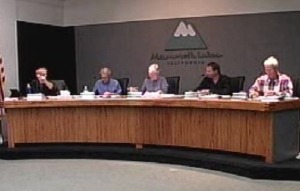 Land Acquisition until MLLA blew the lid off of the silence when they went to court to immediately collect their debt and emailed a letter to local media that claimed the Town had shut down negotiations.  As a result of all that, the Town Council will finally go public with questions and answers on this major town government issue.
At Wednesday night's meeting the Council will go immediately to what they're calling Community Update with questions and answers on the Town's settlement process with MLLA.  The Town Council agenda packet says the Town Staff will make available responses to the frequently asked questions regarding the Town's settlement process with MLLA.  The agenda bill says that because MLLA went to court to get their money and because they sent a letter to local media, the Town "has found it necessary to provide a forum for the public, media, businesses, and any other interested parties to discuss any non-privileged, non-confidential information related to the Town's settlement process with MLLA."
Apparently, the public present at the meeting will have a chance to ask questions and get answers.  Officials say this is all informational, and the Council will take no action.  Details of talks between MLLA and Mammoth have remained under wraps with a confidentiality agreement in place.
After news broke of MLLA's court action to collect its millions and its officials' allegations that Mammoth behaved in "bad faith", Town officials said that they discovered serious revenue issues in December and withdrew an earlier offer to MLLA, one that they had rejected.  MLLA seemed to interpret that withdrawal and no new offers as a halt to negotiations.
Mammoth officials now say that they want to continue negotiating and just needed some time to re-group.  After ten months of discussions and four months of that in serious negotiations, MLLA seems to have lost patience.
The Town Council meeting will happen Wednesday, 6pm in Suite Z.