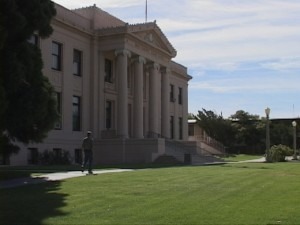 Court sentences in Inyo criminal cases involve sex crimes and involuntary manslaughter.
After many continuances, according to Inyo Superior Court, Ronald Evert Barr was sentenced recently to a total of six years in prison for felony oral copulation and misdemeanor annoying a child.
Harlan Dewey, Jr. was sentenced in January on his no-contest plea to felony involuntary manslaughter. This case involved what was described as an altercation Dewey had with Daniel Barlow in December of 2011. The District Attorney's Office said Barlow died as a result of that fight.
Dewey was sentenced to a jail term that was stayed. He does have to perform 1,000 hours of community work service and remain on formal felony probation for 5 years.
According to Superior Court, Dewey has requested a monitoring system – an ankle bracelet that tracks his location and, the court said, alcohol consumption.
And, according to local legal sources, Richard Ferrell Andreas, Sr. of Bishop has been sentenced to 30 years in prison for multiple acts of molestation.