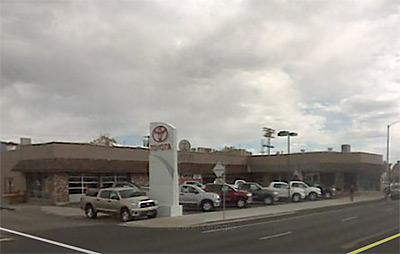 The national move by General Motors to close down dealerships nationwide has hit home. Perry Motors in Bishop, GM Dealers for over 60 years, received a letter from GM that calls for an end to their franchise.
Dick Perry told us that his company received notice Friday from GM that their sales and service contract will not be renewed at its expiration in October 2010. Mr. Perry believes the dealership will end before that.
Perry said that although GM has not yet announced whether they will be filing for Bankruptcy protection, experts in the auto industry are predicting that they will file by the end of the month. Mr. Perry said that if GM were to file bankruptcy, "We predict that Perry Motors' relationship with GM will end shortly thereafter."
On the positive side of this difficult news, Perry Motors will continue to operate as dealers of Toyota and Honda. Mr. Perry said these dealerships have always been profitable and strong. He said General Motors has lost $82 billion since 2004. In the last year, when GM lost $25 billion, Toyota made $17 billion.
Mr. Perry does regret that he will not be able to continue warranty service to the many local residents and tourists who regularly use his dealership. Now, there will be no GM dealer between Reno and Southern California. Again, Mr. Perry remains upbeat because of his ability to continue with Toyota and Honda sales and service, relatively strong companies in the very difficult world of the automobile industry.
Many communities across the nation have experienced what happened here in the Eastern Sierra. In fact, the Los Angeles Times reports that GM planned to terminate as many as 1200 dealers now and 1400 more later. The LA Times reported that "By the time the dust settles, nearly 20% of the nation's roughly 19,000 auto dealerships will be forced out of business, casualties of attempts by GM and Chrysler to get past the worst industry slump in decades."
Reports indicate that dealerships have been hit in rural and urban areas alike – many times hurting the dealership owners who are frequently community leaders.
Dick Perry concluded by saying, "It's been a privilege selling and servicing GM vehicles for over 60 years to the local community and we look forward to continuing to serve you as a Toyota/Honda dealer in the future."