The first day of trout season – other than catching the big one, what will make it one of those memorable experiences? A boat inspection before the opener. Sounds dull and bureaucratic, but it's required this year and you can get it done now. It's all about the Quagga Mussel – an aquatic pest that has invaded waterways all over the United States, but not yet in California. DWP and Crowley Fish Camp have come up with mandatory boat inspections to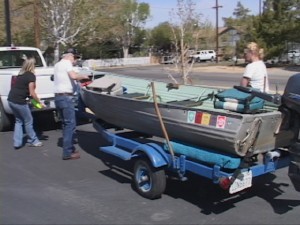 help.
At DWP headquarters, boat inspections are underway. Now through fishing season, DWP will inspect boats at the headquarters at 300 Mandich St. in Bishop, 8am to 3pm. Boats can be inspected after 3pm by appointment. Call DWP.
Also, April 23, 24 and 25, DWP will inspect boats at the Vons/Kmart parking lot in the area behind Smart and Final. The section will be marked. Also, beginning April 23, you can get your boat inspected at Crowley Lake's south landing from 8am to 5pm, then April 24th through the fishing season from 7am to 7pm.
Bottom line – only pre-inspected boats will be allowed to enter the gate or launch at Crowley Lake after 7pm April 25th. Inspections will resume at 7am opening day. If you've already had your boat inspected, like these people, you can go through the pre-paid line at the main gate.
If you can, get your boat inspected before opening day this Saturday.