Press release
"THE MONO LAKE CEMETERY: VOICES FROM THE PAST" is Theme for 13th Ghosts of Sagebrush Tour
With a Friday, August 19 dinner and program at the Mono Inn, and Saturday August 20 13th Annual Ghosts of the Sagebrush Tour, "The Mono Lake Cemetery: Voices from the Past," the popular annual event hosted by the Mono Basin Historical Society aims to share intriguing local history stories about people and family members interred in the Mono Lake Cemetery.
Dinner and Tour separate tickets are just $25.  The Friday buffet dinner begins at
6 PM
at the Mono Inn, 5 miles north of Lee Vining on Highway 395.  A no-host bar will open at
5 PM
.  The evening program includes speakers about the Jordan and Lundy cemeteries and the grave of Kit Carson's daughter near the Mono Inn restaurant.  A surprise "Visitor from the Past" will highlight the program.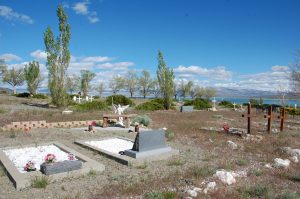 The Saturday program begins at
10 AM
  and continues to
3 PM
at the Mono Lake Cemetery, one mile off Highway 395 on Cemetery Road, 5 miles north of Lee Vining.  Sack lunches will be provided to ticket holders at the Mono Lake County Park.
The long years of historical society work by Norm DeChambeau, who passed away in May, will be honored.  Speakers throughout the day will focus on names that are familiar in Mono Basin history:  Bethel, DeChambeau, Banta, Hess, Filosena, LaBraque, Adair, Calhoun, and Carrington.
Historic video shot by Jack Preston will be shown during the final hour of the day in the theater at the Mono Basin Scenic Area Visitor Center, ending at
4 PM
.
(Note that roadwork is causing delays up to 20 minutes on Hwy 395, north of Lee Vining, so the event may extend beyond
4 PM
and ticket holders should plan accordingly to arrive on time.)
Plenty of shade canopies and cold water will be provided at this event, which is the largest annual fundraiser for the non-profit Historical Society.