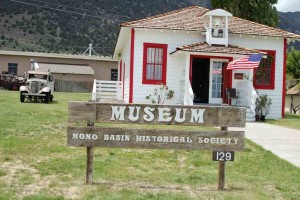 Press release
The Mono Basin Historical Society brings you the 12th Annual Ghosts of the Sagebrush Event, Celebrating the 25thanniversary of the history museum in the old schoolhouse.
Come to the tri tip dinner at the Lee Vining Community Center on Friday, August 28th. There will be videos, raffle items and a visit from historic characters.
Saturday, August 29th is "BACK TO SCHOOL: A Grand Day in the Park," taking place from 10am to 4pmon the grounds of the museum at 129 Mattly Avenue in Hess Park, Lee Vining.
Enjoy a Barbeque Lunch, historic films and speakers, music, and tours of the Upside Down House. It's fun for all ages! Event Tickets are $25 for each event.  This annual fundraiser for the Mono Basin Historical Society is always informative and fun.
Call 760 647-6461 and Visitwww.monobasinhs.orgfor information.