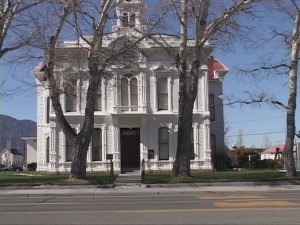 In April, then Mono County mechanic Dick Luman went public to say that he was fired after road department Supervisor Brett McCurry assaulted him. McCurry was also fired. Luman appealed and lost after weeks of open hearing. Two out of three eye witnesses supported Luman's claim. Last Friday in a two-hour closed appeal hearing, Brett McCurry was reinstated to his county job. Luman's attorney thinks the fix was in against her client and that a "good old boy mentality" operates in Bridgeport.
Testimony in Luman's appeal case told of employees' gripes that McCurry had created a hostile work environment with intimidation and bad language. Witnesses said Luman had gone with an employee to complain about McCurry to another supervisor. Two eye witnesses said that they saw McCurry slam Luman up against a tool cabinet and fight with him. A third witness had not contradicted that report at first but later claimed he saw Luman strike McCurry.
In the written decision against Luman's appeal, board members admitted that the County should have acted sooner to address Brett McCurry's "inappropriate conduct in the workplace."
Luman's attorney Katie Bellomo called McCurry's appeal hearing "rigged" with two of his close friends selected for the Personnel Appeal Board by the Union. She said, "If Mono County had wanted a fair hearing and a good case, they would not have allowed the god son of one of McCurry's children to sit on the panel." She said Mono County essentially suspended McCurry for three months, paid him for two of those months and then gave him his job back.
Bellomo also said that it was her understanding that the County Counsel did not call Dick Luman or two of the eye witnesses to testify in McCurry's case. A third eyewitness who changed his story and backed McCurry did reportedly testify. Bellomo said she thinks McCurry testified for Mono County against Luman "and then got his job back."
Asked why she believes Luman was targeted by Mono County for firing, Bellomo said that he is "not a good old boy" and had filed previous workers compensation claims against the County. She said the County had tried to deny Luman treatment. Bellomo said during Luman's appeal hearing there were "no complaints about Dick's work." She said there was no evidence he was a troublemaker and one witness said he "doesn't even use foul language." Bellomo said Luman  plans to go to Superior Court over the loss of his appeal.
We placed calls for comment to Mono County Counsel John Vallejo, Union Representative Jerry Frederick and County Administrator Jim Arkens. Arkens was out of town, and we have not yet received return calls from either Vallejo or Frederick.