ESWC issued the following press release:
WILD SPIRITS FUNDRAISING CELEBRATION
Ravens, reptiles, and tortoises, oh my! Free food and drink and fun, oh boy! It's "Wild Spirits," Eastern Sierra Wildlife Care's 6th annual fundraising celebration, and it's coming up on Sunday, October 23 from 6-8 pm at the one and only Mountain Light Gallery in the center of Bishop. This year, Wild Spirits is being held in honor of the wonderful people of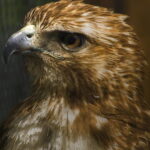 the Eastern Sierra.
This event raises much-needed money to support Eastern Sierra Wildlife Care—the people who rescue, rehab and release injured and orphaned wild animals. The only wildlife rehab facility in the Eastern Sierra, ESWC also offers education programs about the wild birds and mammals that are part of our community.
The two-hour event is crammed full of things to do. Take a seat and watch a wildlife slide show featuring ESWC's patients. Win a door prize. Meet Wildlife Ambassadors Razzle the Raven and Spirit the Red-tailed Hawk. Learn about snakes and tortoises at the Reptile Corner. Sign up for a Fly Away can, get info about "Living with Wildlife" or becoming an ESWC volunteer. Watch for a mystery animal guest (or two).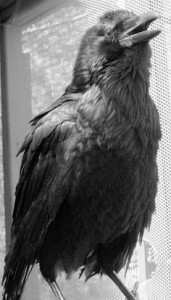 You can snack on great food, sip your beverage of choice, and check out the silent auction items. Works of art: photographs, paintings, sculpture, jewelry, ceramics; gift certificates for restaurants, massages, beauty parlors, golfing, swimming and more; and a multitude of gifts. Buy for yourself or pick up gifts for the holidays.
Mark your calendar! Sunday, October 23rd, 6-8 pm at Mountain Light. There's a $10 donation at the door (kids 12 and under free) and every cent goes to the animals. For more info, call 760-872-1487. Don't miss this marvelous celebration. You'll have a wonderful time knowing that you're helping injured eagles and orphaned rabbits get a second chance.
For further information, call Cindy Kamler at 760-872-1487.
Photo caption: ESWC Wildlife Ambassadors Razzle the Raven and Spirit the Red-tailed Hawk will be at Wild Spirits.