Press release
Lone Ranger Canyon!
2016 Concert In The Rocks
Saturday June 4, 2016
"New Orleans Rock n Roll for the soul"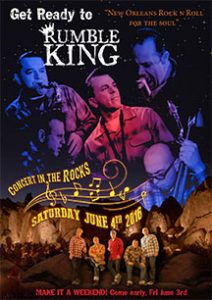 Rumble King is "Red-hot, Wild & Wailin." They're a five piece, Rockin' Rhythm & Blues band that will get you out of your seats and dancing on the tables.
By combining roots Rhythm & Blues, Jazz, Rock & Roll, Rock-a-Billy, and exotic musical flavors from around the world, this uniquely talented and tight quintet has stumbled across an original style.
Rumble King is led by Aaron Deily, a powerful juke joint style lead vocalist and his explosive piano, Scott Ramirez and Obie Hughes are "howlin" on saxophones and back-up vocals, with Ulysses Gallegos on upright bass. The band's renowned, powerhouse drummer is Bill Bateman.
SCHEDULE:
Cocktail Reception for Museum of Western Film History Members 4:30 PM
Shuttle bus starts at 5:00 PM from the Museum. (members and ticket holders)
Sit down dinner begins in the Alabama Hills at 6:00 PM
Transportation to the Canyon IS ONLY by bus service: Buses will leave
the Museum for Lone Ranger Canyon at 5:00 PM.
CONCERT AND DINNER IN THE ALABAMA HILLS $80.00 per person
CALL MUSEUM FOR TICKETS – 760-876-9103
For Details: see http://www.museumofwesternfilmhistory.org/concert