Remains found in a remote desert wash have been positively identified as belonging to a German man who went missing in 1996, but with these conclusive results, significant questions remain.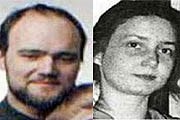 In July of 1996, 34-year-old Egbert Rimkus, his 10-year-old son, his girl friend Cornelia Meyer and her 4-year-old son Max traveled to Death Valley. Their rental van was found in a remote wash in October of that year, but no sign of the four missing people turned up until two Riverside Mountain Rescue Unit searchers found remains in November of 2009.
After multiple searches in the remote desert area south of the Goler Wash in the Panamint Range and north of the China Lake Naval Air Station, Inyo County investigators returned with bone fragments from three different groups of bones found. After months of effort, Inyo Coroner Jeff Mullenhour reports that DNA from bone fragments matched family members in Germany, allowing the investigators to positively ID some of the remains as belonging to Egbert Rimkus.
There were other bones found in the vicinity. Some bones belonged to animals, others were badly decomposed. Mullenhour reports that other bones could not be determined as adult male or female. There were bones that belonged to an adult female, but Mullenhour explained that it was not possible to get DNA from any of the badly deteriorated bones to try to match to Cornelia Meyer. When searchers first located the bones, there was identification belonging to Meyer found associated with the remains. While these bones appear to be related to Cornelia Meyer, none of the bones found so far have belonged to the missing children.
The Inyo Sheriffs Department is in the process of planning additional searches to the area as this tragic and mysterious case has not yet been fully resolved.