The prosecution of former Inyo County Public Defender and current candidate for District Attorney, Gerard Harvey, willl now go to the Kern County District Attorneys Office.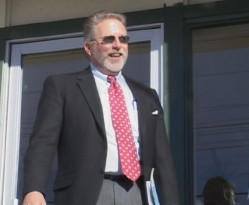 District Attorney Art Maillet is in the midst of a political campaign for re-election against Gerard Harvey, who is also running for the job despite the felony charges filed by the District Attorney.
In March of 2009, the Inyo District Attorneys office filed three charges against Harvey – witness intimidation, one felony count of making criminal threats, and one felony count of threatening a witness who provided assistance to a law enforcement officer and public prosecutor in a criminal court proceeding.
Maillet further explained that Harvey is alleged to have threatened one of his own clients because she had worked as a confidential informant for the Inyo Narcotics Enforcement Team. Harvey is also alleged to have attempted to prevent the client from assisting INET in the future, and allegedly attempted to bribe and dissuade another witness in a separate matter.
As former public defender who represents clients charged by the DAs office, Harveys defense had filed a motion to recuse the DAs office. That motion was denied in November. Since then Harveys decision to run for DA has introduced a political element that Maillet has chosen not to ignore in the prosecution of this case.
Maillet said, I have reason to believe that prosecuting my political opponent may cause some members of the community to question the integrity of my office. He adds, I would rather we continue to personally prosecute the case against Mr. Harvey, but I believe in maintaining the integrity of the Office of District Attorney is more important than having my office handle any single criminal prosecution.
Inyo County will have to reimburse Kern County for some costs. While Maillet says that he doesnt know what the cost will be until the prosecution is done, he says that it is likely that the cost will not be large, since the case is ready for trial.
As it stands now, Harvey is set for trial April 26th, with the Kern County District Attorney's Office prosecuting the case in Inyo County.