Bishop attorney Gerard Harvey, who faces four felony charges in Inyo Court, took out petitions to run for Inyo District Attorney.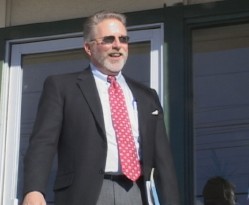 Harvey reminds that he has pled not guilty to the charges of dissuading a witness and attempting to bribe a witness. He said he is not certain he will run for DA, but he doesn't think District Attorney Art Maillet "deserves a free walk."
Harvey said he's putting out feelers and looking into the possibility of running for office. Why does he want to run? Harvey said he has watched and worked in the court system for 15 years, many years as a public defender. He said for the last 8 years "the system has crumbled. The relationship among colleagues, said Harvey, is down to nothing between prosecutors and defense attorneys. It's a real problem," he said.
Harvey said that he thinks the DA's office "consistently engages in overcharging defendants." He added that he thinks the law in the DA's office is "more about personalities than proof beyond a reasonable doubt."
The potential candidate also said, "I don't think the current administration takes responsibility for work going on underneath him."
Would he run for office to get his current case in court dismissed? "That's not true. That would be unethical," said Harvey. His consideration to run for DA, he said, has to do with what he sees in that office.