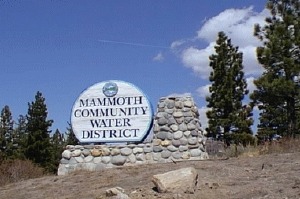 The sharp differences of opinion continue in Mammoth Lakes over Ormat Geothermal's plans to expand its operations. Mammoth Community Water District officials are not reassured by a recently released monitoring plan by Ormat.
In response to that plan, water officials issued a press release to say that Ormat geothermal has just presented a "grossly inadequate plan to monitor the impacts of its controversial geothermal expansion project." The District says Ormat failed to respond to concerns, completed the plan in May and only released it to the Water District at the end of August. Ormat officials issued a response to say that the Water District continues to criticize the project with many inaccurate statements and mischaracterized Ormat's efforts to date.
The Water District press release says officials had reviewed Ormat's draft outline of its Monitoring Response Plan and laid out a number of comments needed to protect the community's water supply. Officials said Ormat finalized the plan in May without incorporating any of the "comprehensive comments that the Water District had provided." Water District officials said they only found out about a completed plan in August, one day before a meeting with Ormat to discuss a mutually acceptable monitoring and mitigation plan.
The Water District says the Monitoring Response Plan includes no response for mitigation of any detected impacts to Mammoth's water supply. Ormat Senior Vice President Bob Sullivan said that his company has offered, in writing, "multiple mitigation measures that include curtailing production from the Basalt Canyon area if an impact occurs to local groundwater, effectively shutting down our production wells," said Sullivan.
He continued to say that "It is a mischaracterization for the Water District to say that if there is a problem there is 'no way to solve it.'" Sullivan said the Water District's press release makes it seem like Ormat refuses to work on the plan at all. Said Sullivan, "This is simply not true."
Water District General Manager Patrick Hayes said, "Unfortunately, what Ormat presented to us is a poorly equipped fire alarm with no evacuation route – they may be able to tell us there is a problem but they have no way to solve it – and that is simply unacceptable when dealing with our water supply."
Hayes lists five minimum needs in the monitoring plan, including monitoring wells, stress testing, a monitoring and mitigation committee, a mitigation plan, and more. Hayes calls for monitoring wells to go in now, ahead of the project.
Ormat's Bob Sullivan said, "We have been working in good faith with the Water District on a monitoring and mitigation plan to protect the area's groundwater. Ormat," he said, "has invested significant time and expense in developing a plan which includes ongoing monitoring for the life of the project, drilling new groundwater monitoring wells, and performing stress tests. The bottom line," he said, "is that Ormat also doesn't want anything to happen to the groundwater supply, both as a good citizen of the community and from a business standpoint."