George David Clarkson, born October 7, 1929 in Los Angeles, California passed away peacefully surrounded by his family on May 22, 2018.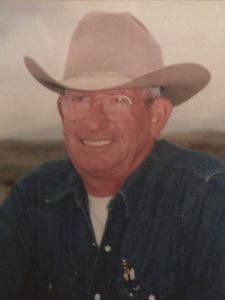 He was raised on the Jeffery Ranch, now known as the White Mountain Ranch until he was 17 years old when the family moved to Bishop.
He graduated from Bishop Union High School in 1947. George enlisted in the Air Force (1950) during the Korean War where he served in Japan in communications until his discharge in 1954.
He came home to Bishop where he met and married Sue Wissing in 1955. They recently celebrated their 63rd wedding anniversary.
George has 3 adult children Ginnie (Greg) Bird, Marilyn (Jon) Propst and George (Patty) Clarkson.  He cherished his 8 grandchildren, Kobi (Greg) Kothman, Clint (Amanda) Bird, Krystal (Rick) Koontz, Kielly Lewis, Kevin Lewis, Kacey Lewis, Ashley Clarkson and Alyssa Clarkson.
In addition to his grandchildren he had 9 great grandchildren that were the joy of his life, Akaylah Kothman, Abigale Kothman, Sierra Kothman, Nate Kothman, Ginger Kothman, Faith Bird, Megan Bird, Kyle Koontz and Hailee Koontz.
George worked California Interstate Telephone Company until his retirement from Verizon after 40 years of service.  During his career he lived in Taft and Manteca CA but returned to his beloved Bishop after being away for 20 years.
George was Worshipful Master of the Winneduma Masonic Lodge #287 . He was a member of the Bishop Volunteer Fire Department for 15 years. George served as president of the Bishop Homecoming Association 1962 and 1963, was a member from 1947 to 1971 and was Grand Marshall of the Labor Day Homecoming Parade in 1988.
His favorite past time was working with cattle and horses, a passion he had since his childhood on the Jeffery Ranch. George was a master craftsman with woodworking and loved the time he spent making furniture, remodeling antiques and making gifts and Christmas ornaments in his shop.
He loved deer and duck hunting as well as fly fishing. He was a true fan of golfing and was a member of the Bishop Country Club for over 30 years as well as a lifetime member. George made over 200 "Hole in One" trophies for members of the Bishop Country Club.
He is preceded in death by his father, George, his mother Louise and his brother Donald.
A graveside service will be held on Saturday, June 16th at 11:00 at the West Line Street Cemetery followed by a Celebration of Life.
Please join us as we celebrate George, Daddy, Pop Pop, Uncle George and Clint on Father's Day weekend.
Donations may be made to the Laws Museum.