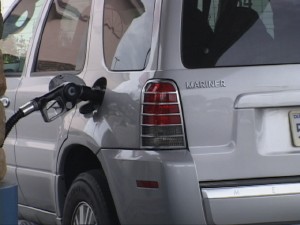 Talk about sticker shock – in recent days, Californians including us here in Inyo-Mono, woke up to gasoline prices that had suddenly jumped up by as much as 50 cents per gallon overnight. Governor Jerry Brown ordered the California Air Resources Board to start use of California's winter blend as soon as possible. That blend, which is slightly more polluting, normally starts up at the end of October.
Even that move will not likely bring prices down as much as they went up. Officials say the winter blend use would increase gasoline supplies by nearly 10%. In the Eastern Sierra, a gallon of regular now goes for about $5.09 in Mammoth Lakes and between $4.44 and $4.69 in Bishop and the Owens Valley. The average price in the state hit $4.67 per gallon of unleaded gas.
Reports say that the Air Resources Board's action was the first time since 2005 – when gas supplies were affected by refinery disruptions in the wake of Hurricane Katrina – that the air board has approved early conversion to winter-gas blends. News reports indicated that refinery and distribution pipeline problems in California led to the sudden price jump.
Record-setting prices at the pump have also prompted calls for a federal investigation. Senator Barbara Boxer reportedly asked the Department of Justice's oil and gas price fraud division to investigate reported maintenance issues at refineries.
Senator Dianne Feinstein asked the Federal Trade Commission to investigate for a potential trading scheme.