For 11 straight weeks now, gas prices have gone down. As much as 26 cents from last month. The trends in gas prices do not evoke trust among consumers who will just enjoy a small savings while they can.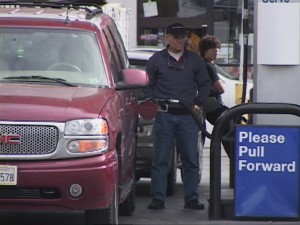 The Auto Club's most recent consumer survey says that a strengthened U.S. dollar has helped keep gas prices down. So far, hurricane activity has not kicked up oil or gas prices. And, for whatever reason, political and military issues have not taken a toll on oil production or costs.
Locally, we were all braced for the $5 per gallon of regular gas, instead the prices dropped. In Mammoth Lakes, the average price sits at $4.42 per gallon of regular unleaded. In Bishop and the Owens Valley, the average price rings in at $4.16 per gallon.
Again, our prices sit well above the national average at $3.65 per gallon. Even though our gas prices, deemed resort market prices, sit higher than the national average other states and towns do pay more than we do. Like Alaska at $4.41 per gallon and Tahoe City, California at $4.30.
As for the future, the Auto Club reports that OPEC has promised no cut in oil production. The 13 OPEC members produce about 40% of the world's oil.