As one local gas station worker said, "This is all Bush's fault." The political side of gasoline prices. The Auto Club conducted a survey of gas prices and concluded that California gas prices are nearing record highs.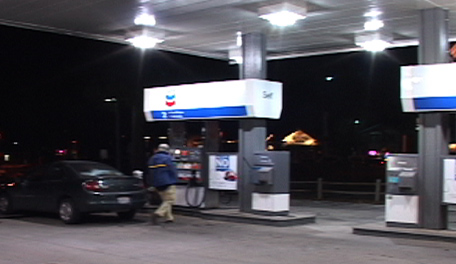 In the Eastern Sierra prices edged up over the last week. You can buy a gallon of regular unleaded in the Bishop area for $3.29 give or take 10 cents. In the Mammoth Lakes area – $3.68 per gallon. In Bridgeport the price is over $4 per gallon of regular.
The Auto Club says that gasoline prices in many communities in California are close to record high levels set in May of this year. The statewide average cost for a gallon of regular unleaded gas is now $3.39.
The Auto Club does not name President Bush as the cause of the gas price increase, but the Club does name "an enormous increase in the costs of crude oil." Crude oil prices peaked at nearly $100 per barrel, up from $55 per barrel at the start of the year.
The Auto Club report says that "many analysts have attributed rising oil prices to increased tensions in and around oil producing regions of the world that could threaten the reliable supply of crude." On top of this, the report says that prices are likely to go even higher.
The U.S. Department of Energy also predicts gasoline prices will continue to climb, forecasting an additional 20 cent per gallon price increase by Decem ber if OPEC does not increase production.
Authorities admit that high fuel prices have taken a toll on household budgets. The Auto Club reports that a new study from the Oil Price Information Service finds that the percentage of median income spent on gasoline has doubled in the last five years. Others point out that the price