GARY PAUL WILLIAMSON
4/17/38 ~ 6/16/17
Loved by all who knew him, Gary passed away on June 16, 2017 at Northern Inyo Hospital after a fast but difficult battle with pancreatic cancer. He was surrounded by close family and friends during his last days and, like the man he was, he waited until his loved ones had the chance to say goodbye.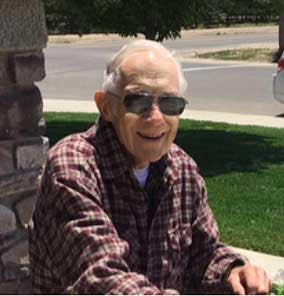 Gary was born on April 17, 1938 in Glendale, CA to Jeanne Evelyn and Jesse Paul Williamson. In 1942 the family relocated to Bishop, CA where he remained a resident for the last 75 years of his life. He attended the original Bishop Grammar School on W. Line Street, and went on to graduate with the Bishop Union High – Class of 1956. His family owned and ran the original Owens Valley Milling Company on South Main St., where he worked until joining the U.S. Army in 1961. He completed his basic training in Fort Ord, CA and then went on to receive specialized training in Fort Gordon, Georgia before being stationed in Karlsruh, Germany as part of the elite Signal Corp.
Gary returned to Bishop, CA in 1964 where he met and married the love of his life, Betty Alice Williamson in September of 1968 at the Methodist Church in Bishop, CA. He worked as a chef at the original Welch's Pancake House, and in 1971 began his 45 years as the manager of The Toggery. He is remembered by many as much more than a retail store manager, but a local man who put a child's first pair of cowboy boots on their little feet, and fitted the grown man for their wedding tuxedo some 40 years later.
Gary is survived by his wife, Betty Williamson (Bishop, CA), his daughter, Janet Fant, (Denair, CA) and Julie Williamson (Eugene, OR), son-in-law, Kevin Fant, and five beautiful grandchildren, Kayla Fant, Weston Fant, and Lauren Fant (all of Denair, CA) and Macey and Madison Williamson (both of Eugene, OR). He is survived also by his brother, Bart Williamson and sister, Jeanie Powell (both of Bishop, CA) brother-in-law, Lee Powell, and his many nieces and nephews, Melissa, Jeff, Justin, and Matthew Powell, Kelly Huntsinger and her children, Carly, Alesha, and Patrick, and Paula Boxley and her children, Jessie Mack, and Jordan, Kailyn, and Kori Boxley. Last but not least, he is survived by his dear friends, Ralph Palsrock and Glenn.
He is preceded in death by his grandparents, Mac and Esther Doane, his parents, Paul and Jeanne, his beloved daughter, Teri Lynn.
Services will be held at 10am, Friday, June 30th at the Calvary Baptist Church on W. Line St. Graveside services will follow at the Pioneer Cemetery on E. Line St.
~There will be an emptiness felt in Gary's absence, but the mark he left on those who loved him will never fade away ~