Press release
"The Detectives and the Valley: From Sam Spade to Chinatown"
Everybody is invited to the Owens Valley Committee's annual Fundraiser. This year the Owens Valley Committee joins Inyo County in celebrating Inyo's Sesquicentennial year.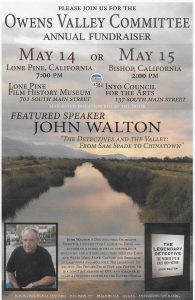 Learn more about Inyo's water history: May 14, 2016 – 7 pm Lone Pine Film History Museum and May 15, 2016 – 2 pm – Inyo Council for the Arts John Walton will be doing a presentation on his new book: The Legendary Detective: the Private Eye in Fact and Fiction and how it ties in to events in the Owens Valley.
John Walton is Distinguished Professor Emeritus, University of California Davis and author of a dozen books in the fields of sociology and history, including Western Times and Water Wars: State, Culture and Rebellion in California.
Published in 1992, Western Times was awarded prizes by the California Historical Society and the American Sociological Association and remains the definitive study of the Owens Valley from its Native American origins to the Los Angeles water controversy.
He is a longtime member of OVC and for over thirty years a frequent visitor to the Eastern Sierra.
A special treat will be the ice cream sundae/banana split bar at both events.
Suggested donation at the door of $10.