Press release
The Hula Halau O Koru dancers, led by dance studio owner Kymberlee Nalumaluhia, have been invited to perform at the Reno Aloha Festival on August 26. The group is hosting a Ruby Ribbon Trunk Show on Thursday, July 27 from 6 p.m. to 9 p.m. at the studio, 133 E. Line Street in Bishop. A percentage of the sales from the Trunk Show will be donated to the dance group to help cover expenses related to the Reno performance.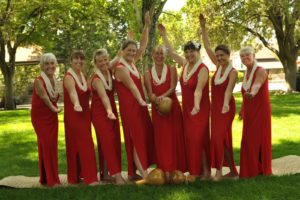 Ruby Ribbon is a women's fashion company offering a unique four-part product line; Fashion Layers, Shapewear, Essentials with Shaping and Ruby Ribbon Swim. Local Ruby Ribbon Stylist and Team Leader Betsy Thomsen will be available to assist shoppers with their wardrobe needs, and will give a short product demonstration at 7 p.m.
The event will also feature a raffle and light refreshments. For more information please email Betsy Thomsen at [email protected] or Kymberlee Nalumaluhia at [email protected] To see the Ruby Ribbon collection visit www.rubyribbon.com/BetsyThomsen To learn more about Hula Halau O Koru hula school visit their Facebook page.