Local musician Giacomo Timbrello has been accepted to the prestigious Berklee School of Music.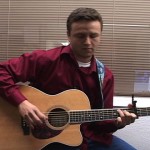 He will hold a fundraising "Let's Get Him There" benefit concert this Friday in Bishop at Crossroads Church, 315 E. South St.
Doors open at 6:30 p.m. Tickets are available at Radio Shack and Spellbinder Books in Bishop.
For more information or to make a donation, please call 760-937-4490.
Also, see Eastern Sierra News on this website for an interview and a song with Giacomo Timbrello.