– Press release
Paradise Fire Protection District is holding the First Annual Fire Engine Red Fundraiser on Saturday, June 6, from 5:00 pm to 8:00 pm at Hidden Creek Ranch in West Bishop.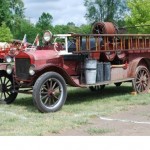 The recent Round Fire made very apparent the District's vulnerability to wild fires, especially after four years of drought.  Board Chair, Ann Klinefelter said, "We desperately need new wild land firefighting equipment.
We are applying for a 50/50 matching grant through the Cal Fire Volunteer Fire Assistance Grant Program to purchase approximately $20,000 worth of equipment. " And she added, "To raise our portion of the funds, the PFPD Board is holding the First Annual Fire Engine Red Fundraiser on June 6, 2015.  Our goal is to raise $10,000, while bringing our community together for an evening of fun and good cheer.  We are asking for your help!"
Join your friends and neighbors for a special evening featuring wine tasting by Eberle Vineyard, Mastro Scheidt Family Cellars, and Shadow Ranch Winery; beer tasting by Mountain Rambler Brewery; appetizers and desserts by Classy Cowgirl Catering; live music by Idle Hands; and a chance to win fabulous prizes in our Silent Auction and Raffle.
Event tickets are $60 each and Raffle Tickets are $10 each or 3 for $20.
Reserve your tickets at Spellbinder Books in Bishop, Mammoth Lakes Foundation in Mammoth, or Tom's Place.
Give these fundraising efforts a big boost by becoming Event Sponsor: for $500 donation you will receive 4 complimentary event tickets and 4 complimentary raffle tickets, your name and logo in our event program.
For more information call: Ann Klinefelter at 706-387-2673