No tickets will be available tonight at the door!
– Press release
Please join us in a dramatic setting at the base of Wheeler Crest and overlooking Round Valley, Saturday, July 25, from 5:30-8:30 PM for the Swall Meadows Wine, Beer, & Food Fest fundraiser benefitting the Wheeler Crest Fire Department.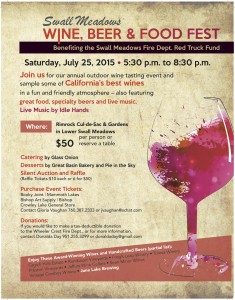 Known for our offerings of unique wines along with knowledgeable pourers, reds and whites from the best California wineries, Grgich Hills, Rombauer Vineyards, and Frog's Leap, to name a few, will be served. Catering by Glass Onion and desserts from Great Basin Bakery and Pie in the Sky will enhance your experience. And, for the first time, June Lake Brewery will be pouring beer! Live music by Idle Hands and raffle and silent auction items will round out the event. Raffle or auction items include a Season Pass to Mammoth Mountain, a 2016 Rock Creek Pack Station Pack Trip, and a 2-night stay at the Beresford Arms Hotel in San Francisco.
  Still recovering from the devastating Round Fire in which 36 home were destroyed, this event raises money for the Red Truck Fund which buys engines and equipment for the Wheeler Crest Fire Department, a 23-member department that responds to calls throughout the Eastern Sierra.
Tickets cost $50 each and raffle tickets are $10 each or 6/$50. Event tickets can be purchased in advance at Bishop Art Supply, Crowley Lake Store, and the Booky Joint in Mammoth. We hope you will attend but if you can't, please consider making a donation. For tickets or donation information contact Donalda Day, 951-255-3299, [email protected]  or Gloria Vaughan, 760-920-7359, [email protected].