Press release
Lone Pine FFA Boosters Club is pleased to announce the 2017 Blue & Gold Fundraiser. This year the Spring Round-up will be held on Friday, March 31, 2017 from 7-10 pm at the Lone Pine Film History Museum located on Highway 395 in Lone Pine.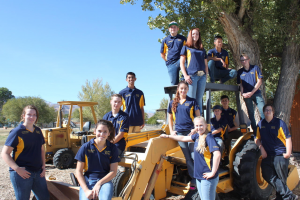 Not only will you have the opportunity to visit the amazing museum and see the new exhibits on display you will have a chance to taste specialty wines from the Central Coast's wine region and specialty brews from local Eastern Sierra Breweries. In addition to all this Billy and Sue Ruiz from Cowboy flavor will be cooking up hearty hors d'oeuvres for you to enjoy while you listen to Fiddlin' Pete Watercott play in the main building. There will be dozens of silent auction items for you to bid on with many item made in the Ag. Mechanics, Ag. Construction and Floral Design courses taught at Lone Pine High. Tickets are available for $35.00 per ticket or you can become a Booster Member and receive 4 tickets for $100 as an Active Member up to $1000.00 for Gold Members.
Fundraising efforts from 2016 were enough to purchase a state of the art Lincoln Torchmate 4800 Plasma Cutting System for the growing Agricultural Mechanics Fabrication Shop. This state of the art machine has a touchscreen HMI, industrial grade 80 amp plasma cutter along with CAD software for student design and learning, bringing Lone Pine High Student into the cutting edge of rigorous and relevant career and technical education preparing them for a wind range of high wage and high skilled positions.
For 2017 the program looks to use the funds to purchase a dump trailer, along with design and construct a large pollinator garden, provide a learning lab for the Bee Keeping project, and construct a new poultry and storage barn.
We hope to see you at this year's event, if you have any questions please contact Brenda Lacey FFA Advisor at 760-878-8843 for ticket and Booster Club information.