Press release
Guide Dogs for the Blind puppy-in-training Fuller, raised in the Eastern Sierra by Mammoth Lakes resident Anne Parkes, will soon be taking the next step on his journey to become a Guide Dog.
Fuller has been recalled to the organization's campus in San Rafael and will begin his formal guide work training in late February.
Fuller has lived with Parkes for the last 15 months, and has become a familiar sight in and around Mammoth and Bishop.  The handsome yellow Labrador wearing the green "Puppy in Training" vest was socialized in many restaurants and retail establishments, community and sporting events by Parkes and other members of the local puppy raising club, Eastern Sierra Guide Puppies.
"Socializing the puppies is an important part of our job as puppy raisers," said Parkes. "We expose the puppies to all kinds of environments and situations to prepare them for their future jobs as Guide Dogs."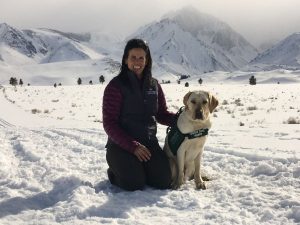 Puppy raisers also teach the dogs basic obedience, and attend meetings and outings with the puppy raising club.  Guide Dogs for the Blind uses yellow and black Labrador Retrievers, Golden Retrievers and Lab/Golden crosses as guides.  The puppies are born at the Guide Dog kennels in San Rafael and placed in the homes of volunteer puppy raisers when they are 8 to 10 weeks old.
The pups are returned to Guide Dogs for formal training when they are 14-18 months old.  Following the completion of the training, the dogs are matched with their visually impaired partner.  The new person-dog team completes an intensive course culminating with a graduation ceremony at which the puppy raisers present the dog to the dog's new visually impaired partner.
Fuller is the fourth puppy Anne Parkes has raised with Guide Dogs for the Blind.
For more information on raising a Guide Dog puppy, please contact club leader Betsy Thomsen at
760-920-8891
or Anne Parkes at
760-920-0762
.  More information on Guide Dogs for the Blind may be found at
www.guidedogs.com