Pile Burning in Devils Postpile Complete (Press Release)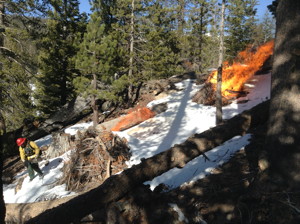 This joint fuel reduction project is located on both the Inyo National Forest and at Devils Postpile National Monument near Reds Meadow in non-wilderness areas.  Between February 18-20, Inyo National Forest fire crews burned over 200 piles on 59 acres in Devils Postpile National Monument, and continue to burn piles on Inyo National Forest land in Reds Meadow Valley. This joint project is successful in promoting forest health and reducing the risk for future high intensity wildfires. Fire has been a natural occurrence in these forests for centuries and after a century of fire suppression; this is the first step in reintroducing fire into Devils Postpile forest ecosystems.
This project goal was to reduce fuel loads following the Devils Windstorm of 2011. During that storm, thousands of trees in the Reds Meadow Valley were blown down, greatly increasing the amount of hazardous fuels. While the windstorm was a natural event, forest structure has been altered after a century of fire suppression, as well as the 1992 Rainbow Fire. To reduce fire risk, fire crews thinned and piled the slash from downed trees in 2012 and 2013. The piles are burned when adequate snow cover exists to prevent the fire from spreading and to reduce burn intensity.
When piles were constructed, finer fuels (e.g. pine needles) that are easier to light are placed in the middle of the pile to provide a good place for ignition, although some removal of snow is sometimes needed to get the pile going. Once the piles have burned down, crews go back and "chunk" or move partially or unburned fuel on the perimeter of the pile into the center. This promotes more complete combustion and higher fuel reduction.
During the pile burning, smoke production is minimal but may have been visible from Mammoth Mountain, June Mountain, Minaret Vista, and the Thousand Island Lakes Area. Morning inversion patterns hold smoke in the Reds Meadow Valley. The timing of this project takes advantage of safe burning conditions and limited visitation to the Red Meadow Valley. However, residents or recreationalists who are smoke sensitive should avoid physical exertion when smoke is present.