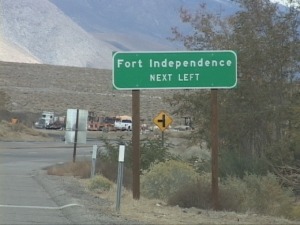 Earlier this month, law enforcement arrested Gregory Chmielewski 43, in Arizona on the alleged charge of insurance fraud.  The Fort Independence Indian Tribe was one of the victims in this case.
According to the Sacramento Bee, Chmielewski faces fraud and money-laundering charges. The Bee reported that according to his indictment, Chmielewski set up a company in Roseville to provide low-cost workers' compensation insurance.  The story goes on to say that the accused had partnered with the Fort Independence Indian Reservation to "establish a company called Independent Staffing Solutions."  The story says the tribe owned the company but Chmielewski ran it.
The U.S. Attorney's office has alleged that the defendant began to divert and misappropriate millions of dollars for his personal use.  The Sacramento Bee reported that court records say that Chmielewski's firm owed the tribal-owned company $7 million.  Prosecutors allege that the firm victimized employers as well as the tribe.
Sierra Wave Media contacted tribal leaders for comment.  Their attorney, Jack Duran, did return our calls and sent us a statement from Tribal Chairman Israel Naylor.  It says that the arrest of Chmielewski begins the end of a "very difficult chapter in the history of the Fort Independence Indian Community."  Naylor also said that "What started out as a viable and innovative solution to Workers' Compensation insurance, via a tribal plan, turned into an example of greed and avarice…."
The press release says that the tribe's federal status and ability to use that status for economic development purposes had worked well for other projects but not for the insurance plan when "Mr. Chmielewski allegedly began to siphon funds, intended to support the business, for his and others own financial gain."
Chmielewski appeared in federal court in Sacramento for an arraignment last week.  He reportedly pled not guilty.