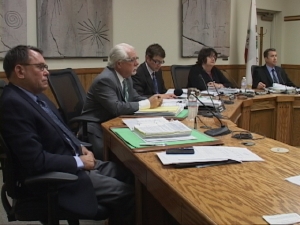 More steps toward a new County Office Complex in Inyo County were expected to come up at the Supervisors meeting today at 10:30am. The Board could okay an updated, non-binding Term Sheet and Concept Plan for a Lease Option Agreement with Inyo County Development LLC. They are partners with Joseph Enterprises, the local company negotiating an overall deal with Inyo County.
And, at 3pm, a State Desert Renewable Energy Conservation Plan representative was also expected to talk to the Board about the planning area that includes parts of Inyo. Funds will be provided for Inyo to create General Plan elements and zoning ordinances to address renewable energy.
A public meeting at the Independence Legion Hall at 6pm tonight will address this same issue further, including where energy projects should go and what type of permits should be issued.
And on two other matters, a proposed letter from the Inyo Supervisors to the U.S. Fish and Wildlife Service says listing two types of frogs and the Yosemite Toad as endangered and designation of critical habitat would "decimate our agriculture and tourist based economy and irreversibly alter our cultural identity and way of life." The Board planned to consider this letter at their meeting today.
Would protection of the little critters really destroy our way of life here? The Board's proposed letter says the worst-case restrictions would prohibit cattle grazing in the Coyote Flats and mulky Meadows, would prohibit fish-stocking at front-country lakes and other fisheries, would remove fish from prime recreational fishing lakes and streams, would curtail pack stations to their ruin, and would deny recreational access. More on this today.
The Board also planned to consider sending a letter to the U.S. Department of Interior about the proposed threatened status of the Yellow-billed Cuckoo. The Board's letter asks that the federal government work with local citizens, business owners, agricultural interests, renewable energy companies and mining to "minimize impacts to our economy and culture."