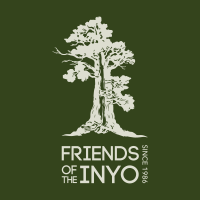 Friends of the Inyo, Earthworks, and Great Basin Resource Watch Team Up to Offer Free "GOLD MINING 101" Workshop in Bishop
Eastern Sierra environmental conservation nonprofit Friends of the Inyo will host and educational workshop on the effects of mining on Wednesday, June 14, from 6:30 to 8 p.m. at the Owens Valley Paiute Shoshone Cultural Center, 2300 W. Line Street, in Bishop. The event is free and open to the public.
The workshop is titled "Gold Mining 101," and will be delivered in partnership with Earthworks and Great Basin Resource Watch. Earthworks is a national nonprofit committed to protecting communities and the environment from the adverse impacts of mineral and energy development while promoting sustainable solutions. Great Basin Resource Watch, based in Reno, Nevada, is an environmental justice nonprofit dedicated to the protection of the Great Basin region from the adverse effects of resource extraction and use.
The main presenters will be, from Earthworks, Jared Naimark, California Mining Organizer, and Ian Bigley, Southwest Region Organizer; and from Great Basin Resource Watch, Kassandra Lisenbee, Outreach and Program Coordinator.
"We're fortunate to have Jared, Ian, and Kassandra come to the Eastern Sierra to talk about modern gold mining and its relation to Conglomerate Mesa and Hot Creek," said Kayla Browne, Friends of the Inyo's Policy Associate, Desert Lands Campaign Manager. "Bishop is situated right between these two environmentally fragile places. We need to understand what is happening in our backyard."
The aim of the workshop is to discuss how modern gold mining impacts Inyo and Mono Counties amidst a wave of new gold mining projects in our state that threaten local land, air, water and the rights of Indigenous communities.
For example, in Southern Inyo, Canadian company K2 Gold aims to conduct exploratory drilling for gold at Conglomerate Mesa, where exploration would have significant impacts on rare and threatened species, scarce water resources, and an important cultural landscape historically stewarded by Paiute and Shoshone peoples. K2 Gold's exploration activities may eventually lead to the destructive digging of a large open-pit mine. This workshop will discuss the impacts of gold mining on local communities and the environment in anticipation of an upcoming public comment period to address an Environmental Impact Statement (EIS) that the Bureau of Land Management, the federal agency in charge of Conglomerate Mesa and other immediately surrounding public lands, is requiring of K2 Gold.
In Long Valley, Southern Mono County, another Canadian company, KORE Mining, has been granted the go ahead by the courts to begin exploratory drilling for gold near the Hot Creek Geologic Site. The U.S. Forest Service used a "Categorical Exclusion" to allow the project to move forward with a very minimal environmental review. Gold Mining 101 will also address the impacts this project could have, and look at the "No Hot Creek Mine" grassroots effort that has formed in opposition to the KORE Mining project, as well as ongoing litigation efforts by Friends of the Inyo, together with other environmental protection partners, to try to stop it.
Snacks and refreshments will be provided, and there is plenty of parking at the Owens Valley Paiute Shoshone Cultural Center. Questions about this event may be directed to [email protected] or [email protected].