Press release
The Friends of the Eastern California Museum invites everyone to join them for their annual meeting and potluck dinner on Saturday March 12 at the American Legion Hall in Independence.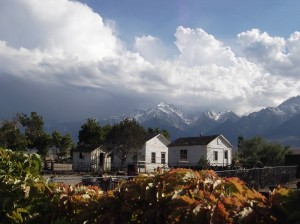 The Friends are a non-profit organization, which supports the Eastern California Museum in Independence, which is also the Inyo County Museum, with volunteer labor and financial resources, to help keep the Museum a viable and important part in preserving our area's history and culture.
The evening will also feature a presentation by Dr. Kimberly Kirner from California State University, Northridge.  Dr. Kirner has been the lead researcher for the "Coping with Change" research project in the Eastern Sierra and will explain the project and demonstrates how Inyo residents can participate through a simple on-line map.
In addition, the Friends will be conducting their popular silent auction.  This year, the auction will feature a number of great items including a six night stay in a condo in Mammoth, 2 nights with golf at Furnace Creek Resort in Death Valley, a 2 night stay with dinner in Shoshone, and dozens other great items for you to bid on as well.
The Friends annual dinner and meeting will start at 5:30pm at the American Legion Hall in Independence-the corner of Kearsarge and Hwy 395.
There will also be a social hour at the Eastern California Museum-135 N Grant St in Independence from 4:30 to 5:30.  That's Saturday March 12th, the Friends of the Eastern California Museum annual meeting, potluck dinner and silent auction.  Everyone's invited.
For more information, contact David at (760) 920-8061.