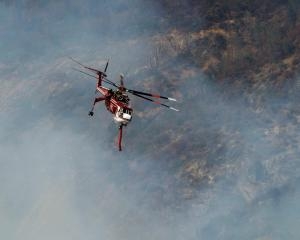 (From Inciweb) Evacuation order will be lifted on today at 9:00 AM for residents living in the Arnold Meadows and Wagners Mammoth Pool Resort area. The Forest Service Area Road and Trail Closure remains in effect and the area remains closed to the public.
SummaryToday crews will continue building and reinforcing fire lines on the north and west perimeters. The east perimeter has burned down to the San Joaquin River. Fire crews will also continue fire line suppression repair work, which is repairing or improving fire damaged lands unlikely to recover on their own. The extent of repair will vary depending upon intended use after the fire.Firefighting resources, such as engines and crews, will continue to be demobilized from the French Fire and sent to other fires in northern California. The public is reminded a lot of firefighting equipment will still be traveling on the roads going into the French Fire area and others will be leaving the community heading to other incidents.An investigation has concluded that an abandoned campfire near the Rock Creek Campground was the cause of the French Fire. The abandoned campfire was located towards the bottom of Rock Creek Road, near the San Joaquin River. Investigators are asking for the public's help for information about anyone who was seen in the area of Rock Creek Road near the San Joaquin River during the afternoon or evening of Sunday July 27. Anyone with information is encouraged to call the 559-877-2605.
ClosuresA Forest Service Area Road and Trail Closure, Forest Order # 15-14-07, has been issued for the French Fire area. More information about the Forest Closure and the closure can be found at: http://tinyurl.com/o44cvyu .
Basic Information
| | |
| --- | --- |
| Current as of | 8/6/2014 7:20:54 AM |
| Incident Type | Wildfire |
| Cause | Human |
| Date of Origin | Monday July 28th, 2014 approx. 05:45 AM |
| Location | Mammoth Pool |
| Incident Commander | Dave Cooper |
Current Situation
| | |
| --- | --- |
| Total Personnel | 1,695 |
| Size | 13,835 Acres |
| Percent of Perimeter Contained | 60% |
| Estimated Containment Date | Tuesday August 12th, 2014 approx. 06:00 PM |
| Fuels Involved | Timber with some brushy areas |
| Significant Events | Evacuation order will be lifted today at 9:00 AM for residents living in the Arnold Meadows and Wagners Mammoth Pool Resort area. The Forest Service Area Road and Trail Closure remains in effect and the area remains closed to the public. Heavy demob of resources will begin today. |
Outlook
| | |
| --- | --- |
| Planned Actions | Continue line construction and suppression repair on all divisions. |
| Projected Incident Activity | Crews will continue building and reinforcing containment lines on the north, west and south perimeters. |
| Remarks | Interior fire continues to burn out in the north portion of the fire. |
Current Weather
| | |
| --- | --- |
| Weather Concerns | Mostly clear with normal diurnal downslope and down canyon winds. |