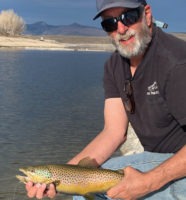 I have two tables sold and I'm trying for a third table for the Bishop California Waterfowl Fund Raising Dinner on Saturday March 12, 2022. Happens to be the day of the Blake Jones Blind Bogey Tournament on Pleasant Valley Reservoir. There is room for eight people per table. CWA supports a number of environmental projects in the Eastern Sierra and the Owens Valley. Some of these projects helps out fisheries habitat as well as marsh habitat. There will be a number of fly fishing related items in the auction, silent auction, and the raffle. There will be guide trips from several guides, my self included, a one night stay at Hot Creek Ranch, flies, fly fishing outfits, camping opportunities, and guns. There will be lots of local business merchandise, guns, and hunting trips. There will be a fly fishing related table gift for each participant at a Sierra Bright Dot table. This dinner is going to sell out fast. Contact me with your intent to join a Sierra Bright Dot Table. Cost is 87.50 per person for a spot at a Sierra Bright Dot Table.
I'm offering an all inclusive five day four night horse pack trip with Frontier Pack Station in June lake. This five day four night golden trout fly fishing trip well fish Crest Creek, Rush Creek, Thousand Island Lake and the head waters of the San Joaquin River, and  Alger Lakes.  Fly fishers will have the opportunity to nymph and dry fly fish for rainbows, brook trout, and goldens. This trip is from Sunday July 24 to Thursday July 28 is $1750.00 per person. If interested please contact me.
South West Council FFI is hosting the first ever fishing tournament called the trout rodeo. Welcome to the first ever Trout Rodeo, which will be Bishop, California on February 26, 2022! This catch and release tournament is a challenge to ALL anglers to see who comes out on top. The event is open to fly and conventional anglers and we have made it easy to be a part of it! 
https://www.swcffi.org/rodeo
Tuesday mornings from 9:00 A.M. to 10:00 A.M. I will be eating my burrito and talking to fly fishers about fly fishing in the Eastern Sierra. Everyone is invited to join me for Tuesday Talks with Fred at Mahogany Smoked Meats if you're in the area. I'm getting good turnouts from local fly fishers, Facebook followers, and InstaGram followers. Who will I get to meet this coming Tuesday?
Please feel free to share this fly fishing report with your fly fishing buddies or have them contact me with their email address to receive the fly fishing report directly.

Tight Lines … Fred

Sierra Bright Dot Fly Fishing Guide Service

(760) 920-8325