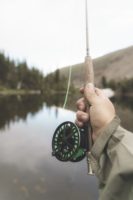 Sierra Bright Dot Fly Fishing Report 01-07-2022
Sierra Bright Dot Fly Fishing Guide Service
sierrabrightdot.com
We've gotten a break from the storms. The days have been sunny, but not overly warm. Not much in the way of hatching insects. This is nymphing time on most Eastern Sierra waters.
Midges are king this time of year on most waters. Black and red are the most common color of midges in Eastern Sierra Waters. The lower Owens River occasionally gets an olive midge. There are a few little fish feeding on the surface of the waters on midge clusters.
Carrying a rod set up to fish a dry fly while fishing a nymph set up is a great way to be prepared for the sporadic hatches found in the winter time.
Lower Owens River:
Wild Trout Section:
Nymphing with midges and mayfly nymphs is what's needed this time of year. There are a few trout rising to midges, but the bulk of the trout are feeding on nymphs right on the bottom of the river. Mating swarms of midges are on the water early in the morning and a few fish can be
fooled fishing with a Griffith's gnat. I like to nymph under an indicator with a size 18 bead head flash back pheasant tail nymph and a size 18 or 20 tiger midge, zebra midges, blood midge, or a two tone brassie.
The Sierra Mountains covered in their winter whites are the perfect back drop for fly fishing on
the lower Owens River.
Hot Creek:
Interpretive Site:
Access is on Hot Creek Hatchery Road. Fly fishers have to walk in on the snow. Fly fishing has been slow. There are wild browns and rainbows willing to take a well placed midge fished under a dry fly or an indicator. There are lots of midge nymph patterns that will work. I like to fish the tried and true tiger midge, zebra midge and a blood midge in sizes 18 or 20.
Hot Creek:
Canyon Section:
Fly fishers can only drive as far as the road has been plowed. From there fly fishers need to walk, snowshoe, ski, or snowmobile into the three canyon access points. Getting into the canyon can be a little tricky with all the snow and ice on the trail. Fishing is all nymphing with midges and I like to fish a size 18 bead head flash back pheasant tail nymph. It represents the mayfly nymphs living in the substrate. Your favorite midge nymph with a black body fished under an indicator or a dry fly will produce a few wild trout.
Upper Owens River:
Above Benton Crossing Bridge:
The snow has settled after the storm and is easier to travel across to reach the deep pools and holes that are holding trophy trout. Fly fishers need to ski, snowshoe, or snowmobile in to the  upper Owens River. There are trophy trout hanging in the deeper pools and runs willing to feed on a well-placed nymph or streamer. Stoner nymphs, green/gold wire Prince nymphs, gold ribbed hare's ears, and copper John's are fooling the trout.
Bishop Creek Canal Behind the Ford Dealer:
The fly fishing has slowed down as the trout are feeding on nymphs in the deeper pools. Fishing nymphs is the method that is producing trout. I've fished under an indicator, under a dry fly and with the Euro rig. The fish are feeding on midges, and mayfly nymphs. I'm using tiger midges, zebra midges, and bead head flash back pheasant tail nymphs. The trout are skittish as the water is clear and low. My shadows on the water is spooking trout.
Nymphing Bishop Creek Canal middle of the day is a fun way to catch wild brown trout.
• SIERRA BRIGHT DOT FLY FISHING GUIDE SERVICE
• sierrabrightdot.com
• [email protected]
• Instagram @sierrabrightdot
• Facebook – Sierra Bright Dot Fly Fishing Guide Service
• YouTube – Sierra Bright Dot Fly Fishing
• (760) 920-8325