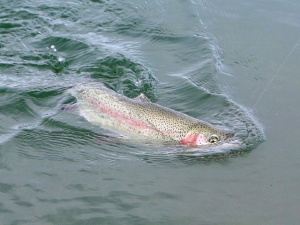 Sierra Bright Dot Fly Fishing Report 01-28-2021
Sierra Bright Dot Fly Fishing Guide Service
sierrabrightdot.com
Warm sunny days in the middle of winter are a treat, but we have had to many nice days in a row. Time for a storm or two to roll through the Eastern Sierra. Nothing in the near future, but things might be changing on the horizon. Fishing has been fair to good middle of the day. Mayfly and midge hatches are providing action for fly fishers. Stonefly nymphs are always a good fly to offer the trout in winter as it represents a mouth full of calories to the trout. Access to upper elevations lakes is still across snow. Cross country skis, snowshoes, or snowmobiles offer the best access to these waters.
Lower Owens River:
Wild Trout Section:
Trout are not consistently feeding off the surface on the midges and mayflies that have been hatching. For the diehard dry fly angler fishing with size 18 blue wing olive mayflies, size 20 biot midge emergers or Griffith's gnats are producing a few fish for anglers that cast to rising fish. Walking the banks mid-day is the best way to find the few surface feeding trout. Nymphing has been the most consistent producer. I've fished with the Euro rig, an indicator, and a dry and dropper. The olive quilldigon in a size 16 and a bead head flash back pheasant tail nymph in a size 18 have been my best producers. Midges are starting to show up in the stomach samples. I've been fishing with tiger midges and zebra midges in size 20 and 22. Insects and trout have been most active from 10:00 A.M. to 2:00 P.M.
Wild brown trout in the catch and release section of the lower Owens River have been feeding on mayfly nymph patters like the olive quilldigon and the bead head flash back pheasant tail nymph.
Hot Creek:
Interpretive Site:
Fly fishers are parking on Hot Creek Hatchery Road and walking in on the hard pack snow to the interpretive site of Hot Creek. A mid-day midge hatch has the wild trout coming to the surface to feed on the hatching midges. Griffith's gnats and biot midge emergers in black are fooling the wild trout. Nymphing is still the most productive method of fishing in the creek. Fishing with midge emerger patterns like Manhattan midges, top secret midge, mercury midge, and mercury two tone brassies.
Hot Creek:
Canyon Section:
Getting into Hot Creek Canyon require a little effort. Fly fishers are parking at the end of the road where snow removal ends. The walk to the parking lots is straight forward. The walk into and out of the canyon is a little tricky. Icey spots make it slippery especially in the steep sections. The canyon section has the least amount of fly fishing pressure. Nymphing with midges like tiger midges, zebra midges, and blood midges is producing most of the day. During the hatch try adding a midge emerger pattern like Manhattan midges, top secret midge, mercury midge, and mercury two tone brassies. Using weight to get the flies down on the substrate where the trout are feeding can be tricky. I use small weights in the winter time like size 1 or 4. I also use a mayfly nymph that has a tungsten bead in conjunction with a midge pattern instead of adding a weight.
Upper Owens River:
Above Benton Crossing Bridge:
Trophy trout are migrating through the upper Owens River above Benton Crossing Bridge. Fly fishers have to access the river over the snow. Walking in with waders and boots, cross country skiing, snow shoes, and snowmobiles is necessary to access the upper river. The trout are holding in the deeper pools and runs. Don't overlook the cutbanks. The trophy trout like to hide under the banks where predators can't get to them. Bigger flies in size 10 to 14 is what is needed to get the trophy trout to take your nymph. The trophy trout will not expended the energy to feed on small midges and mayflies. I like fishing with size 12 stoner nymphs, copper John's, green/gold wire prince nymphs, and bead head flash back gold ribbed hare's ears. Bouncing streamers of the substrate is another good way to get the trophy trout to take a fly. Try fishing with matukas, wooly buggers, hornbergs, and marabou muddlers in size 2, 6, or 10.
Low clear water and no fishing pressure makes Bishop Creek Canal an easy to access spot to fly fish in winter.
Bishop Creek Canal:
Behind the Ford Dealer:
I like fly fishing the canal when I only want to fly fish for an hour or two. It easy to access and is only five minutes from my house. The trout are sporadically feeding on midges and mayflies middle of the day. I'm have success nymphing under an indicator or with the Euro rig. I'm having most of my success with size 16 olive quilldigons, size 18 bead head flash back pheasant tail nymphs, and tiger midges and zebra midges in size 20.
⦁ SIERRA BRIGHT DOT FLY FISHING GUIDE SERVICE
⦁ sierrabrightdot.com
[email protected]
⦁ Instagram @sierrabrightdot
⦁ Facebook – Sierra Bright Dot Fly Fishing Guide Service
⦁ YouTube – Sierra Bright Dot Fly Fishing
⦁ (760) 920-8325