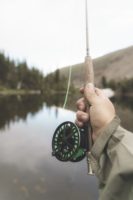 Sierra Bright Dot Fly Fishing Report 12-17-2021
Sierra Bright Dot Fly Fishing Guide Service
sierrabrightdot.com
We got snow this week at the upper elevations and a few inches of snow in the Owens Valley. Which is a good start to a much needed snow pack for this winter to refill the streams and lakes of the Eastern Sierra. While most streams and a few lakes are open to winter fly fishing, freezing weather, accumulated snow fall, and frozen lakes makes most upper elevation waters inaccessible. Waters in the Owens Valley are accessible and not frozen. Owens Valley snow only lasts for a few days. It's time to dress warm as cold weather is finally showing up in the Eastern Sierra. Fly fishers trying to access higher elevation waters like Hot Creek and the upper Owens River need to be prepared as these roads are now covered in snow.
Lower Owens River:
Wild Trout Section:
Cold weather has slowed the caddis and blue wing olive mayfly hatch. Trout have not stopped feeding and fishing nymphs under and indicator or on a Euro rig is producing fish mid-day. Size 20 bead head flash back pheasant tail nymphs, tiger midges, and zebra midges in sizes 18 and 20, size 16 Butano nymphs, size 18 Frenchies, and size 18 hot spot pheasant tail nymphs are fooling wild brown trout to 10 inches. The big fish have been absent from the catch as they are spawning.
Hot Creek:
Interpretive Site:
Winter storms have left up to two feet of fresh snow on the road to Hot Creek Interpretive site. Drive with caution on the road. Parking and walking in is probably the safest way to access Hot Creek right now. Fishing has slowed down with few insects hatching for the fish to feed on. Midges are providing most of the action in this area. Fish with size 16 to 20 tiger midges, zebra midges, and blood midges.
Hot Creek:
Canyon Section:
Access is limited to the canyon from the snow from the recent storms. Walking in is the safest way to access the creek at this point in time. With few insects hatching fly fishers need to fish with nymphs or streamers. A recent stomach pump sample yielded lots of hydropsyche caddis. Nymphing with size 12 or 14 burlap caddis, size 18 or 20 tiger midge and zebra midge, and size 18 bead head flash back pheasant tail nymph is fooling wild brown trout to 14 inches.
Upper Owens River:
Above Benton Crossing Bridge:
Recent storms have left the dirt roads into the upper Owens River full of fresh soft snow. For now, fly fishers are safest walking in from Benton Crossing Bridge. There are trophy trout in the system that are available to fly fishers willing to walk through the snow to access the deep holes and runs that the trophy trout are resting and feeding in. Fishing with streamers and nymphs is producing a trout or two for anglers. Streamers are producing a few fish for fly fishers fishing with wooly buggers, hornbergs, sex dungeons, or dirty hippies. Nymphs that produce trophy trout are size 12 gold ribbed hare's ears, green/gold wire Prince nymphs, and stoner nymphs.
Bishop Creek Canal Behind the Ford Dealer:
A week ago I was complaining it was too hot to fish middle of the day. This week I'm all bundle up fly fishing on Bishop Creek Canal with frozen hands. Euro nymphing and fishing a dry and dropper rig is producing wild brown trout to 10 inches. The mid-day hatches are sporadic and most of the fish are coming on the nymphs. Fishing with size 20 bead head flash back pheasant tail nymphs, size 16 bead head flash back gold ribbed hare's ears, and size 18 or 20 tiger midges and zebra midges are fooling the wild brown trout. I finally have seen a couple of other fly fishers fishing on the canal. Fishing pressure is minimal.
⦁ SIERRA BRIGHT DOT FLY FISHING GUIDE SERVICE
⦁ sierrabrightdot.com
[email protected]
⦁ Instagram @sierrabrightdot
⦁ Facebook – Sierra Bright Dot Fly Fishing Guide Service
⦁ YouTube – Sierra Bright Dot Fly Fishing
⦁ (760) 920-8325