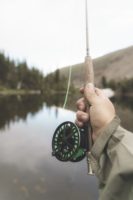 Sierra Bright Dot Fly Fishing Report 11-12-2021
Sierra Bright Dot Fly Fishing Guide Service
sierrabrightdot.com
The Eastern Sierra weather is perfect right now with cold nights and warm days. Some waters
are having lots of fly fishing pressure, while other waters are devoid of fly fishers. Blue wing
olive mayflies are hatching and are offering lots of action for fly fishers. Brown trout and
rainbow trout are starting to spawn in Eastern Sierra streams. I prefer to leave actively spawning
trout on redds alone. All resort lakes including Crowley Lake, the Mammoth Lakes, the June
Lake Loop Lakes, and Bridgeport Reservoir close to fishing starting November 16. Streams and
rivers in the Eastern Sierra switch to winter regs on November 16. For most waters this is catch
and release barbless lures or flies. As always be sure to consult with California Fish and Wildlife
regulations for the water you plan on fly fishing. https://wildlife.ca.gov/Regulations.
Lower Owens River
Wild Trout Section:
Low flows, great weather, an abundance of wild brown trout and a blue wing olive hatch is
making fly fishing the lower Owens River great. A lack of fly fishing pressure over the summer
and early fall mean most of the trout are willing to take a well drifted dry fly or nymph. I'm
nymphing with a size 20 bead head flash back pheasant tail nymph five feet under an indicator
with a size 1 split shot 12 inches above the fly. This rig is producing wild trout before and during
the hatch. Once the hatch is over, I leave the river and head home. If you're in the right stretch of
the river during the hatch the trout are taking size 20 blue wing olive parachutes off the rivers
surface fished on a nine foot 5X leader. Best fly fishing has been between 10:00 A.M. and 2:00
P.M.
Hot Creek:
Interpretive Site:
Morning midge hatches are followed by mid-day blue wing olive mayfly hatches and gray caddis
hatches. Cool mornings are delaying the hatches tell mid-morning starting around 10:00 A.M.
The fish are keying into different hatches each day depending on which insect is in abundance.
One day it will be the blue wing olives. A day or two latter it will be the caddis. Size 20 blue
wing olive parachutes are working during the mayfly hatch. For the caddis hatch I've been using
size 20 parachute caddis in gray and size 20 X-Caddis in gray.
Canyon Section:
Best fly fishing is from 10:00 A.M. to 2:00 P.M. each day. Nymphing before the hatch with gray
caddis emergers and bead head flash back pheasant tail nymphs is producing wild trout for fly
fishers working their nymphs in the lanes between the weed beds and in the open pocket waters.
When the hatch is in full swing, I switch to either a gray caddis or a blue wing olive parachute.
Fishing slows by early afternoon and it's worth quitting at that point.
Upper Owens River:
Above Benton Crossing Bridge:
Nice weather last weekend and trophy rainbow trout and brown trout in the river brought out the
fly fishers on the upper Owens River. Fishing nymphs was the most productive method of
fishing for the trophy trout. Working nymphs under an indicator or on a Euro rod was producing
trophy trout for fly fishers working the deep holes and runs. A lot of fly fishers were nymphing
with no success. To be successful fly fishers need to cover lots of water and get a good
presentation to the trout. I'm working my Euro nymph rig right on the bottom of the pools and
holes that the trophy trout are feeding and resting in. Most holes I'm sight fishing to the trophy
trout. Stoner nymphs, green/gold Prince nymphs, Pat's rubber legs, hothead Frenchie's, and hot
spot pheasant tail nymphs are producing trophy trout.
Upper Owens River:
Below Benton Crossing Bridge:
Crowley Lake and the upper Owens River from Crowley Lake to Benton Bridge will close to
fishing at the end of Monday November 15, 2021. This weekend will be fly fishers last chance to
fly fish this section of the upper Owens River. Trophy trout continue to migrate out of the lake
into the upper Owens River heading up river to their spawning grounds. Fly fishers nymphing
from the lake to the monument area are finding trophy trout willing to take stoner nymphs,
green/gold Prince nymphs, pheasant tail nymphs, and hot head perdigons. Fly fishers pulling
wooly buggers and slump busters are hooking up with the trophy trout.
Bishop Creek Canal Behind the Ford Dealer:
From 10:00 to 2:00 the blue wing olive hatch and warm weather, into the upper 70's, is making
the canal one of the best fly fishing spots in the Owens Valley. Lots of wild brown trout to 10
inches are taking nymphs and dries. I've been nymphing with a Euro rig, dry and dropper, and an
indicator rig. Blue wing olive nymphs like olive quilldigons in size 18, and bead head flash back
pheasant tail nymphs in size 20 are fooling these wild brown trout. A size 20 blue wing olive
parachute floated over the trout with a drag free drift will fool the browns that are feeding on the
surface.
Any size 20 nymph or dry fly that will match the size 20 blue wing olive mayflies hatching on
Bishop Creek Canal will produce wild brown trout to 10 inches.
• SIERRA BRIGHT DOT FLY FISHING GUIDE SERVICE
• sierrabrightdot.com
• [email protected]
• Instagram @sierrabrightdot
• Facebook – Sierra Bright Dot Fly Fishing Guide Service
• YouTube – Sierra Bright Dot Fly Fishing
• (760) 920-8325