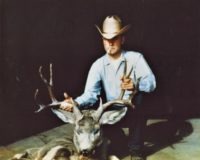 Cap was born in Bishop CA, to Fred "Cap" Aubrey and Dorothy Aubrey. Cap was raised on the family ranch on Brockman Lane and loved the ranch life. His Dad started the 4-H program in the Owens Valley in 1954. Cap remained involved most of his life from showing animals to becoming the Livestock Superintendent of the Junior Livestock Auction.
Even with the busy times of ranching he enjoyed playing high school football and was a proud member of the CIF Championship team of 1958. Cap's love for ranching and animals took him to Fresno State to earn an Ag Science degree and was a member of the Rodeo Team. Cap enlisted in the Air Force in 1960 and became an air traffic controller stationed in Japan. He was honorably discharged in 1963 and returned to Bishop to marry Ruth Scott, the love of his life. They loved to dance and through the 57 years you could always see the love and pride when he held her while dancing.
He started his career with Continental Telephone Company to retire 34 years later. He was very active in the Bishop Homecoming and Rodeo Association and enjoyed his time playing on the adult softball league. He always found time to hunt and fish while teaching his kids and grandkids everything he knew, especially the meaning of family. He was the biggest supporter of everything his kids and grandkids did.
Cap was survived by his wife of 57 years Ruth Aubrey. Sister Daris Moxley, Daughter Terri Wagoner and husband Lance, Son Cap Aubrey lll and wife Darrah, Grandchildren Kelsey Ditty, Cameron Aubrey, and Walker Ditty, plus numerous Great grandchildren and nieces and nephews. Graveside services will be held at the East Line Street cemetery on January 8th at 2:00 pm