Frances Lucille Attebery passed away peacefully at her home in Bishop on November 16, 2017 at the age of 93. Frances (known as GiGi to her family and close friends) was born on March 24, 1924 in Montour Falls, New York.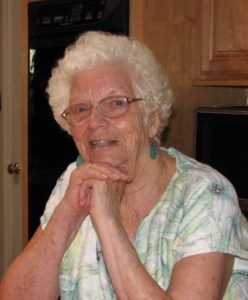 Her family lived in Watkins Glen, New York for a short time after her birth, then moved to California and raised their family of four girls and one boy in Downey. Frances married Lloyd Learned, a military man during WWII, who was promptly deployed to Europe. While Lloyd was in Europe, Frances gave birth to their daughter, Barbara Jean. Barbara never met her father, who was killed during the Invasion of France.
A few years later, while Frances and Barbara were in Wichita, Kansas visiting Barbara's Learned grandparents, Frances met the love of her life. Chester Attebery, also a WWII vet, came to the Learned home to do some electrical work, Frances answered the door and it was love at first sight! She always said she heard wedding bells when she first looked at Chester.
During her visit, she and Chester went to a movie, which was their only date before she and Barbara went back to California. Chester wrote to her and proposed marriage, which of course she said yes! She and Barbara moved to Wichita, starting a new life together with Chester in 1950. Sherry Arline was born a few years later, but Frances didn't like the tornados in Kansas, so the family moved west. They purchased a new home in Stanton, California, which was their home for the rest of their lives together.
Warren Craig was born a few years later, completing their family. Chester spent his working years in aerospace while Frances stayed home taking care of their children, their friends, then grandchildren, and great-grandchildren and their friends!
Both Frances and Chester were known for their unconditional love and the love they received back from all who met them. Never did they think of themselves or what they wanted for their future. Their future was their family and to make sure they got what they needed (or wanted).
As the grandchildren got older their backyard became known as a little skateboard park with a "half-pipe" built by the grandsons and their friends. Frances was also known for her cookies, especially the chocolate chip and peanut butter. Frances and Chester loved holidays, especially Thanksgiving, which she did almost all the cooking for sometimes 40 people. There were times she made 20 pies or more! Their home was also home to extended family and friends over the years, always welcoming those who needed a place to stay to get back on their feet.
Chester began having health problems, eventually passing away in 2008. Frances bravely lost the love of her life and after a few years came up to Bishop to live with her daughter Sherry and son-in-law Scott Nostrant. Frances was quick to make friends in her new hometown, visiting the Friendship Center and Sterling Heights for a few days at a time. She attended Oasis of Grace church.
She was also preceded in death by her parents, Arline and Warren Teemley, siblings Ruth Tompkins, Jo Wilhite, and William Teemley. She is survived by her sister Geneva Wilson, children Barbara Branch, Sherry and Scott Nostrant, Craig and PJ Attebery, grandchildren Tracy and Karen Trussel, Ray Trussel, Jeannie and Steve Accountius, Karen Plotner, Kristi and Daniel Miller, Michael Corliss, Tyson and Karla Gongloff, Matt and Monica Gongloff, Aric Attebery, greatgranchildren Laura Trussel, Ashley Doss, Cody and Dylan Plotner, Alesha, Breanna, and Stephen Accountius, Angel Miller, Tyler, Tyson, Lexi, Nova, and Riot Gongloff, Jocelyn and Nautica Gongloff, great-great grandchildren Kelsea and Grayden Locke, Isbellia Mason, Apuya Gongloff and many nieces, nephews and friends.
Frances will be buried along side her husband Chester in Anaheim, California at the Magnolia Memorial Park on December 4 with a celebration of her life following the graveside service.
A celebration of life will take place in Bishop at the Oasis of Grace Church, date and time will be announced at a later date.
Family suggests donations be made in memory of Frances to Eastern Sierra Cancer Alliance, VFW, or a charity of choice.