– US Forest Service press release
Volunteers from the Eastern Sierra Four Wheel Drive Club have been lending elbow grease to maintaining and repairing established system roads on the Inyo National Forest.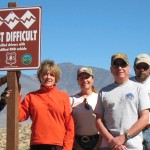 The club, working on their weekends, provides maintenance for OHV road and trails under the direction of the Inyo National Forest.  Their efforts augment the work done by forest staff in ensuring that a high-quality experience can be found on the forest's OHV system roads.
"The club tries to have fun on these outings, mixing the volunteer work with an opportunity for club members to have an outing and enjoy the beautiful Inyo National Forest," said Mike Johnston, president of the Eastern Sierra Four Wheel Drive Club. "The result is increased sense of stewardship for areas that many of us already know and love through recreational activities."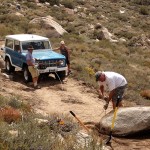 The club also fosters and encourages the responsible use by OHV users including:
Posting way-finding signs to help users stay on established roads and trails
Posting difficulty signs to help OHVers make informed and safe decisions based upon their experience when planning trips or traversing routes
Provide assistance to OHV users from out of the area
Provide training of safe techniques for OHV users
Demonstrating and encouraging Tread Lightly ethics to help care for and protect these areas for future generations such as:

Travel responsibly: stay on designated trails, go over obstacles to avoid widening trails.
Avoid sensitive areas:  i.e., wet meadows, lakes, streams, and historical sites.
Do your part: pack it in and pack a little more out.
"The partnership between the Inyo National Forest and the Eastern Sierra Four Wheel Drive Club is a natural fit," said Ed Armenta, Inyo National Forest Supervisor. "The forest offers over 2,200 miles of designated OHV trails of incomparable scenery and challenge for recreational enjoyment as well as unique and sensitive landscapes, plants, and wildlife. The club, through their labor and their leadership, exemplifies how multiple use and stewardship can be accomplished."