Four Lone Pine residents, arrested in April of 2009 on embezzlement related charges, have been sentenced to county jail time.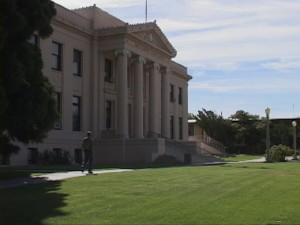 Former Indian Education Center Director Gary Donnelly, bookkeeper Mary Donnelly, bookkeeper/office manager Mary Jefferson, and the assistant to the Director Sara Jefferson, had pleaded no contest to charges related to the misuse of public funds. The four were sentenced Friday.
Court officials report that Gary Donnelly was sentenced to 365 days in jail. Mary Donnelly was sentenced to 120 days, as was Mary Jefferson. Sarah Jefferson received 90 days in the county jail. A hearing to determine how much these four will pay in restitution is set for May 21.
Gary Donnelly, Mary Donnelly, and Mary Jefferson entered felony no contest pleas to charges of misappropriation of public funds. Sara Jefferson, the assistant to the Director, pleaded no contest to misdemeanor grand theft by embezzlement, and in a separate case pleaded no contest to writing checks with insufficient funds in her checking account.
District Attorney Art Maillet has said that the Indian Education Center credit cards were used to buy household furnishings and clothing from departments stores like Lowes, Home Depot, Costco, J.C. Pennys, and a long list of other retails chains. The defendants also used the cards to pay for Direct TV, XM Radio, and Verizon, according to the DA.
All told, the District Attorneys Office alleged that the defendants took over $100,000. The DA also says that as a result of state audits, the Lone Pine Indian Education Center has been closed and is unlikely to re-open.