Locals have long called the stretch of Highway 395 between Independence and Poverty Hills "Death Alley." The two-lane section invited countless accidents, many serious head-on collisions. Finally, Caltrans and its contractor have completed four-laning the dangerous area.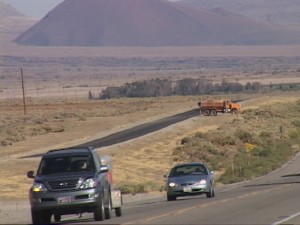 Caltrans announced a ribbon cutting ceremony to mark completion of the highway widening. Caltrans and its contractor, SKANSKA, will host the ceremony Tuesday at 10am at Division Creek Rest Area. The public is invited.
The Blackrock Four-Lane Project, as it is called, widened over 14 miles of Highway 395 to a four-lane expressway. The total project was funded at $43 million. New lanes were constructed to the west of the existing lanes with a 100-foot wide median between the existing and new lanes.
As some motorists have commented, the "white-knuckle driving of the two-lane section is over."